Stokke-slekt (Stokke i Vestfold)
Stokke genealogy (Stokke, Vestfold county)
---
Index
---
About this website
This website is first of all meant to cover some of the Stokke families that I am related to. My great-grandmother Gunda Helene Ekeli, née (Ragnhildrød) Hansen, was born in Stokke. Most of her father's family can also be traced from Stokke, including Helgerød and Døvlen. You will also find some information about other Stokke genealogy at this page.
---
Ragnhildrød/Helgerød
Seaman Gustav Anton Hansen Helgerød, b. Stokke 10 September 1853, died around 1890 when the ship he worked on went down, son of Hans Andersen Døvlen/Helgerød (1823-?) and Grethe Helene Gulliksdatter Helgerød (1829-1901); m. Stokke church 18 January 1875 Johanne Lovise Jakobsdatter [Furustad/Ragnhildrød], b. Sandar [Sandefjord] 11 May 1854, d. Grønli, Sandefjord 29 July 1946, daughter of Jakob Larsen [Hybbestad/Førstad/Ragnhildrød] (ca. 1826-?) and Helene Marie Andersdatter [Klavenes] (1832-?). The couple had 3 children:
Jørgen Hilmar Hansen, b. Stokke 1 July 1875, d. Sandefjord 4 May 1940. Unm., no children
Gunda Helene Hansen, b. Stokke 26 August 1879 (twin), d. Grønli, Sandefjord 24 February 1962; m. Sandefjord church 27 November 1904 Torkild Johan Ekeli, b. Kristiansand 14 August 1878, d. Grønli, Sandefjord 23 March 1939. 5 children. Numerous descendants.
Anna Kristine Hansen
, b. Stokke 27 August 1879 (twin), d. Sandefjord -- 1963; m. --- 1899 Tor Martin [Mathiassen] Gjelstad, b. Kodal, Andebu 20 September 1876, d. --- 1947. 10 children (youngest still alive). Numerous descendants
Grete Helene (Helgerød) Andersen (1829-1901)
Sandefjords Blad 8 August 1901 No. 89, p. 3 (dødsannonse/death announcement).
Sandefjords Blad 15 August 1901 No. 92, p. 3 (takkeannonse/thank you advertisement).
Johanne Lovise Hansen (1853-1946)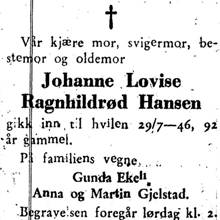 &copy: Sandefjords Blad 31 July 1946 No. 172, p. 3 (death announcement/dødsannonse).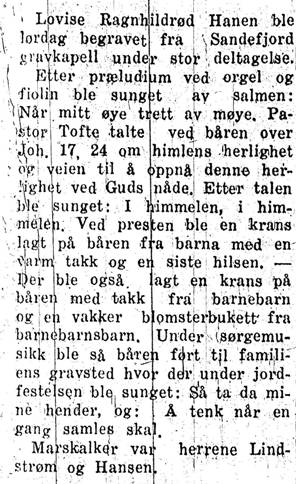 © Sandefjords Blad 3 August 1946 No. 176, p. 3 (funeral notice/begravelsesomtale).
Jørgen Hilmar (Ragnhildrød) Hansen (1875-1940)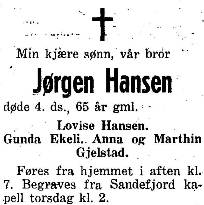 © Sandefjords Blad 7 May 1940 No. 103, p. 3.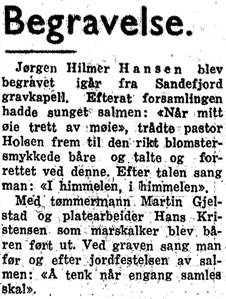 © Sandefjords Blad 10 May 1940 No. 106, p. 2.
Gunda Helene Ekeli, née (Ragnhildrød) Hansen (1879-1962)
Avisutklippene fra 1940 og fremover er gjengitt med tillatelse av Sandefjords Blad, jf. e-post 3. februar 2010.
The paper cuttings from 1940 and onwards are republished by permission of Sandefjords Blad, cf. e-mail of 3 February 2010.
My dad's cousin gave me a few years back a little paper with the name Helga Donahue and the address RFD Box 2145 Eureka, CA, USA. I think she is somehow related to my relatives who lived at Ragnhildrød (Jacob Larsen or his father-in-law Anders Olsen), but I am not sure. Could be related to Hybbestad in Tjølling [Larvik] as well. When I visited Eureka back in 2000, I found her name in an old telephone directory (don't remember which year it was published, though), so I think she lived quite a while after the war. I have also found the names of Helga Donahue and her husband Louis C. Donahue in this document:
http://co.humboldt.ca.us/board/agenda/questys/MG15948/AS16005/AS16006/AI24412/DO30946/BOSAgendaItem.pdf.
I haven't found either names in the Social Security Death Index. If anyone should have information about the couple, please contact me at dagtho@yahoo.com.
---
---
---
This page was last updated on Monday 8 March 2010
(first time published on Saturday 6 March 2010).
© 2010 Dag Trygsland Hoelseth
---